Persistence – We won't accept less than our client has paid for & expects! WE have your back!
A jet fuel pipeline supplying Auckland International Airport ruptured, and that immediately impacted some Air New Zealand flights. Our client was on one of the few long haul flights that was cancelled. Our client had insisted on the "Skycouch" seat upgrade (a great unique upgrade allowing you to lie down flat in economy class)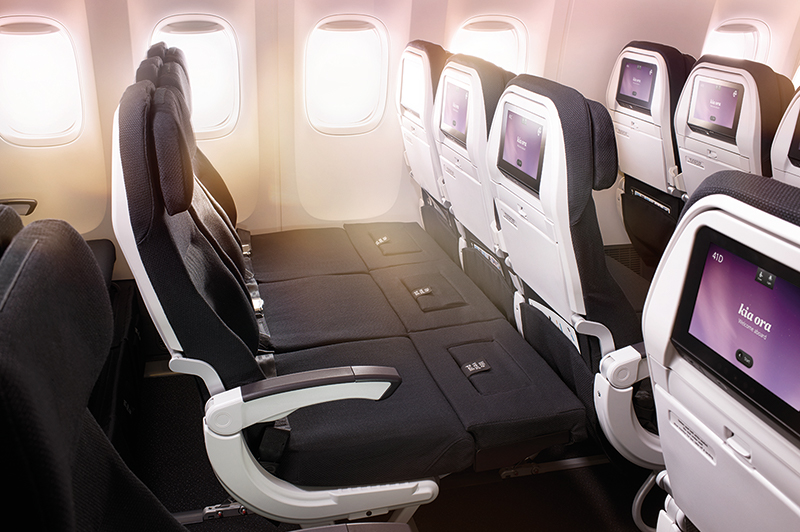 and we knew how important it was to her. To reserve a Skycouch, you must first buy the plane ticket and then you buy the Skycouch upgrade. We called Air New Zealand and our travel partner in New Zealand to make sure our client was not only rerouted on another flight but also was given the Skycouch that she had already paid for. The airline rerouted her, but did not bother to transfer the reservation upgrade for the Skycouch. Our travel partner and Air New Zealand were only concerned with getting our client a seat on a flight, and felt that their responsibility was complete. But NO, that was not acceptable to Brandywine Travel! We knew how important it was to our client to have the Skyouch, and we wanted to make sure that despite the stress of a cancelled, then rerouted flight, her travel would be in comfort. We wanted to make sure that nothing would spoil her trip of a lifetime. In order for her to upgrade to a Skycouch on the new flight, Air New Zealand cancelled the old upgrade, issued a refund, and our client had to pay again for the upgrade on the rerouted flight. Through all this we were in constant communication with our client in Auckland, and their family here in Nashville. After two hours of persistence and follow up on the phone, we were assured the upgrade had been issued. Our client was delighted to text us from Auckland Airport when they had their precious Skycouch boarding pass in hand. It was only Brandywine Travel that insisted that our client be able to purchase the Skycouch upgrade. Our travel partner and Air New Zealand felt that a seat on the plane was good enough, but that is the Brandywine Travel difference and why we say "We Will be With YOU All the Way!"
>>>>>>>>>>>>>>>>>>>>>>>>>>>>>>>>>>>>>>>>>>>>>>>>>>>>>>>>>>>>>>>>>>>>>>>
Persistence Does Pay Off – we insist on a refund for our client
Our client had requested an Economy Comfort seat and had paid the additional fees to the airline. An economy comfort seat gives you about 4 – 6 inches of extra space front to back. It doesn't sound like much but it makes a world of difference! The morning of the flight, we received notification that the flight had been cancelled due to mechanical problems. We immediately called the airline to get an updated status, and noted that our client had been rerouted on the same airline, with a new seat assignment that was not Economy Comfort. We then notified the client of the issue by text. We also contacted the airline. After an hour on the phone with customer service, the airline finally agreed to give the client her refund – but said it would take 3 to 4 weeks for the client to see it back on their credit card. We were pleased to hear from our client that they actually received the refund quite quickly. Knowing that a passenger has the right to ask for the refund, and then persisting on the phone until the airline agrees to give the refund is the benefit of the Professional Expertise and Consultation Services that booking your trip through Brandywine Travel gives you.