An Incredible Trip Down Under! - I can't say enough about the trip Annette help arrange for us. This bucket list trip with my two teenagers was perfect. I usually plan all my trips but wanted an expert's help on this one and it paid off. Annette and her team worked with us routinely on adapting the trip to our style and likes. They easily found the excursions we would want and ultimately thoroughly enjoyed. What a great experience and we owe it all to Annette and God's creations in the Southern Hemisphere! Thanks Annette! - Bell Rock Beasleys - Bethpage, TN
Spectacular! Fabulous ! Raved one of our clients who took their group of teenagers to the Smokies over MLK weekend. And it is not always easy to please teenagers! Our clients stayed at the "Wilderness at the Smokies" Resort in Sevierville. The resort staff was attentive, and while it may have been cold and snowing outside, the indoor water park was an oasis of fun. The arcade was a big attraction for our group, as were the restaurants, and when they needed a change of scene, there was so much entertainment on offer in Pigeon Forge and Gatlinburg! A Great Weekend Getaway for family and friends! - Monique - Alabama
Kudos to the Travel Agent Queen!
A good time was had. All in all- excellent! We came to Brandywine Travel because we knew you had been around for a long long time - Jerry & Elizabeth
Amazing and Stress Free
Thank you so much for making our Alaskan vacation amazing and stress free. It was absolutey stunning and we had the best time!
Jess and Daniel - Chattanooga TN
Above and Beyond
Everything that Annette set up for our vacation went off without a hitch!!
Hotels, tours, planned events, travel plans and transportation were all well planned, and well executed!
The airlines dropped the ball on our return flight and cancelled our flight due to "crew availability". Annette left the comforts of her home, went back to her office at 11:00p.m., and worked past midnight to divert a catastrophe for us.
She worked out an alternate plan, and called back with instructions.
It was so nice having someone at home with her experience and knowledge working on our behalf.
Joe - Nashville TN

Exceeding Expactations in Every Way!
Annette heard all of my requests (and there were many because I was traveling with someone with a relatively new disability), & found a property & package that was perfect for our needs & budget. She spent extra time with us answering questions & relaying information prior to our trip. She checked in with us often to ensure we had everything we needed in terms of documentation & information. All with sincere friendliness & professionalism!
Roaming Roses - Baltimore MD
Eastern European Graduation Trip
Mamie was wonderful! She was timely and prompt throughout all the stages of planning this trip, and she was so patient with me when I had a million questions as the trip approached. If she did not have the answer to a question, she went to work immediately finding the answer. I will definitely seek her services again!
Travelling Mama - Hermitage TN
Trip to Australia and New Zealand
My family and I truly had a trip of a lifetime to Australia and New Zealand. This was a crazy complicated trip with airfare to 4 locations so that we could see as much of this part of the country as possible! Annette planned the whole trip and made recommendations for "must do activities" that we hadn't even thought of - like seeing the Phillip Island Penguin Parade, and making suggestions like - perhaps you should get reservations for dinner on Christmas! She handled all of the details which were pretty involved - i.e. roads where we were going sometimes wash out( Yeah - didn't happen to us!) and we wanted to make sure that my son could scuba dive with a medical restriction. I absolutely love the way Annette handles everything with such professionalism and excitement!!! I think she secretly wishes that she could go everywhere that she plans!!!
Eileen - Hendersonville, TN
A Professional Travel Agent - Well worth the money!
Annette is always great to insure I don't forget details of the trip, like transfers, insurance, required flight layover times, etc. that I don't always think about. That really helps in the planning and having a smooth, worry free trip. If there are issues during the trip, like flight delays, lost luggage, etc. it is really nice to have a professional chase those things and bring them to resolution.
GKW Franklin TN
LAS VEGAS - NEVADA
Mamie was so helpful for this rare traveler. She explained everything quite well and left nothing to guess work. Everything was planned out to a "T". We will definitely call Mamie next time we travel.
sspope - hermitage TN
ALASKA - USA
Annette was very helpful with creating the perfect tour! It was so nice to just look at our schedule to know where we were going each day. Every tour and hotel Annette set up for us were great! She listened to what we wanted and set up a vacation to remember.
Best Cruise Ship yet! Great Trip!
Traveled to

St. Maarten ~ St. Martin ~ Caribbean on Royal Carribean
Mamie really took care of all of our needs getting up set up on a cruise on the Oasis of the Seas.
jen2surprise - Old Hckory Tennessee
Hawaii 50th Anniversary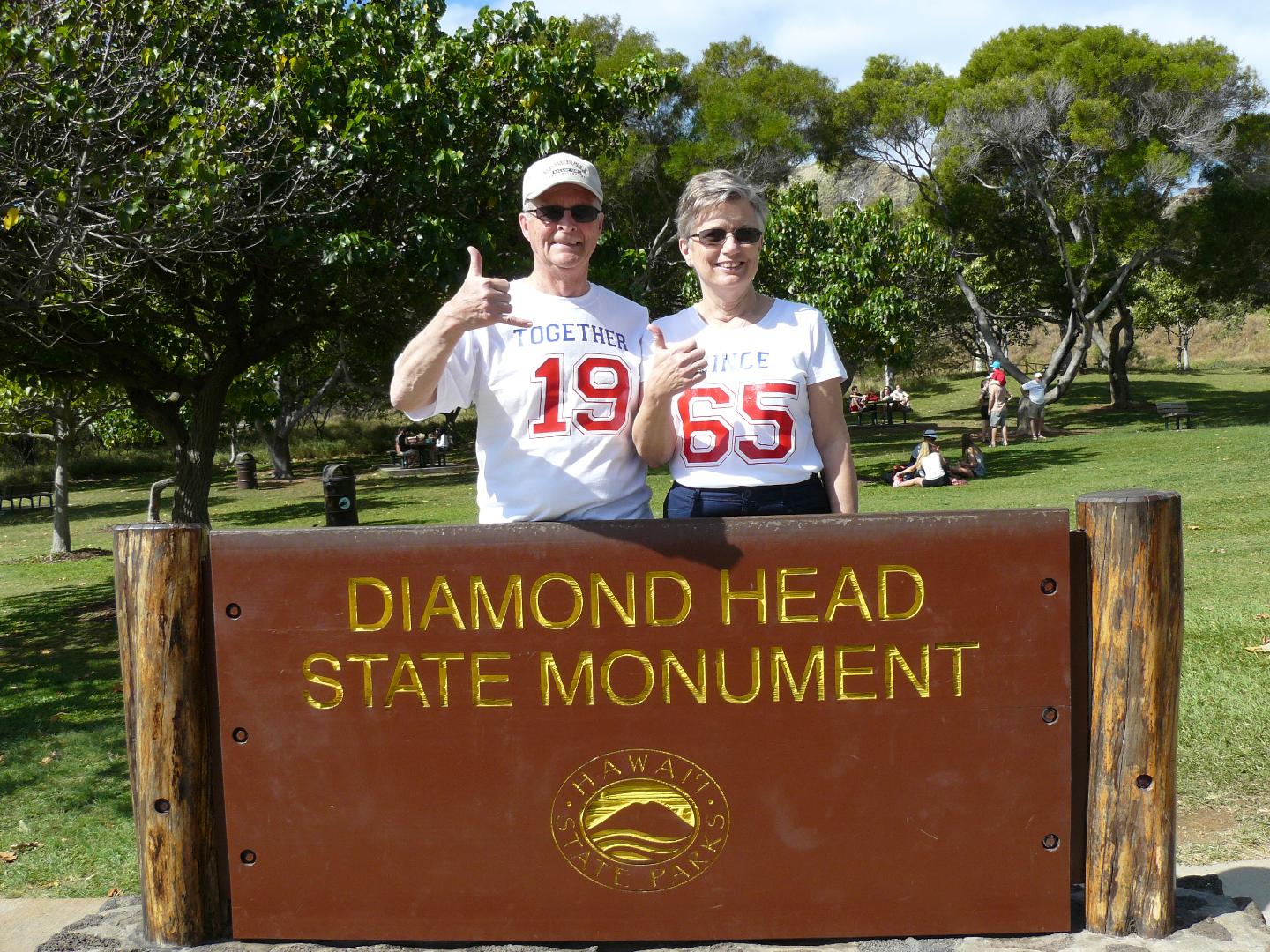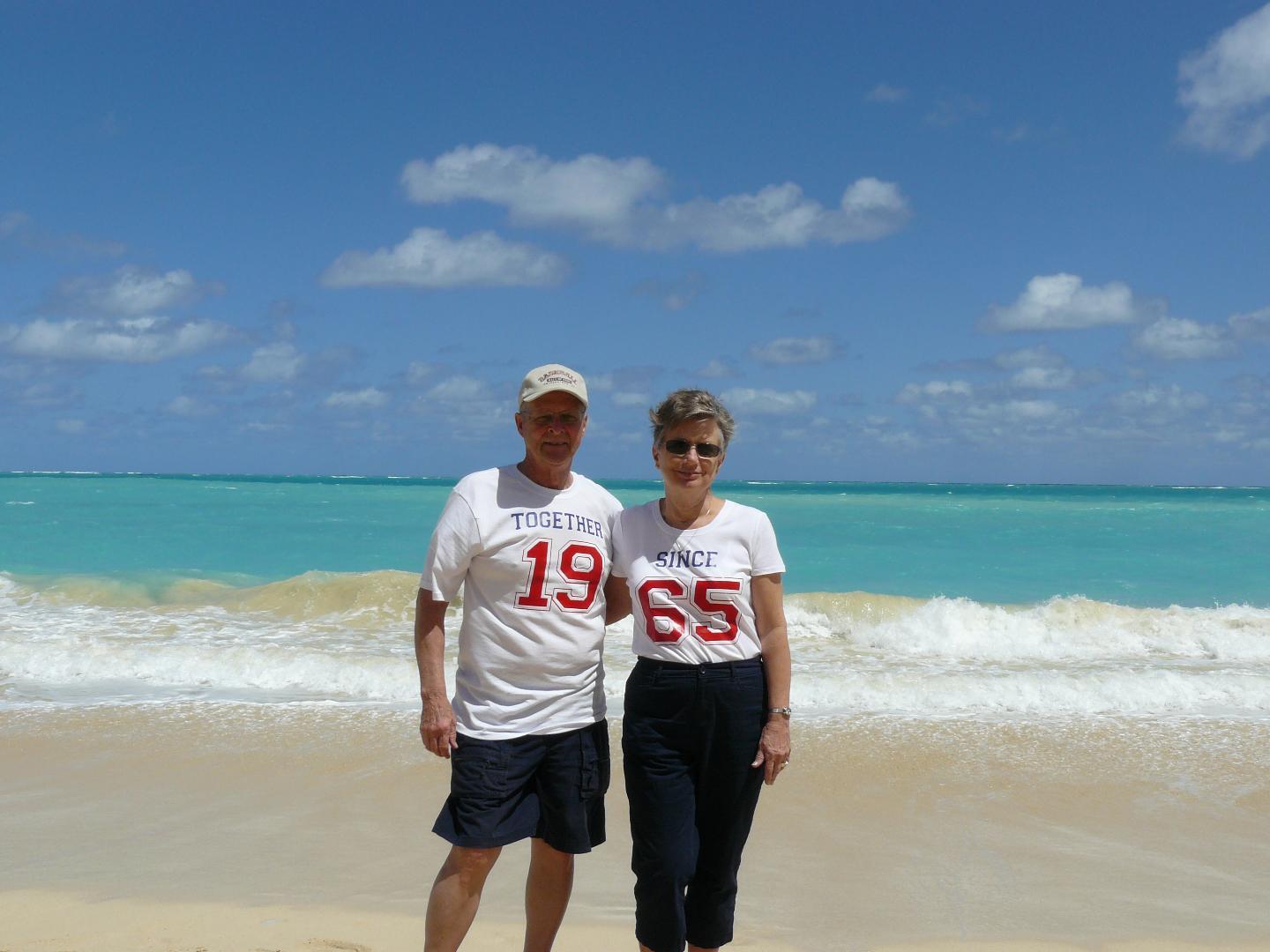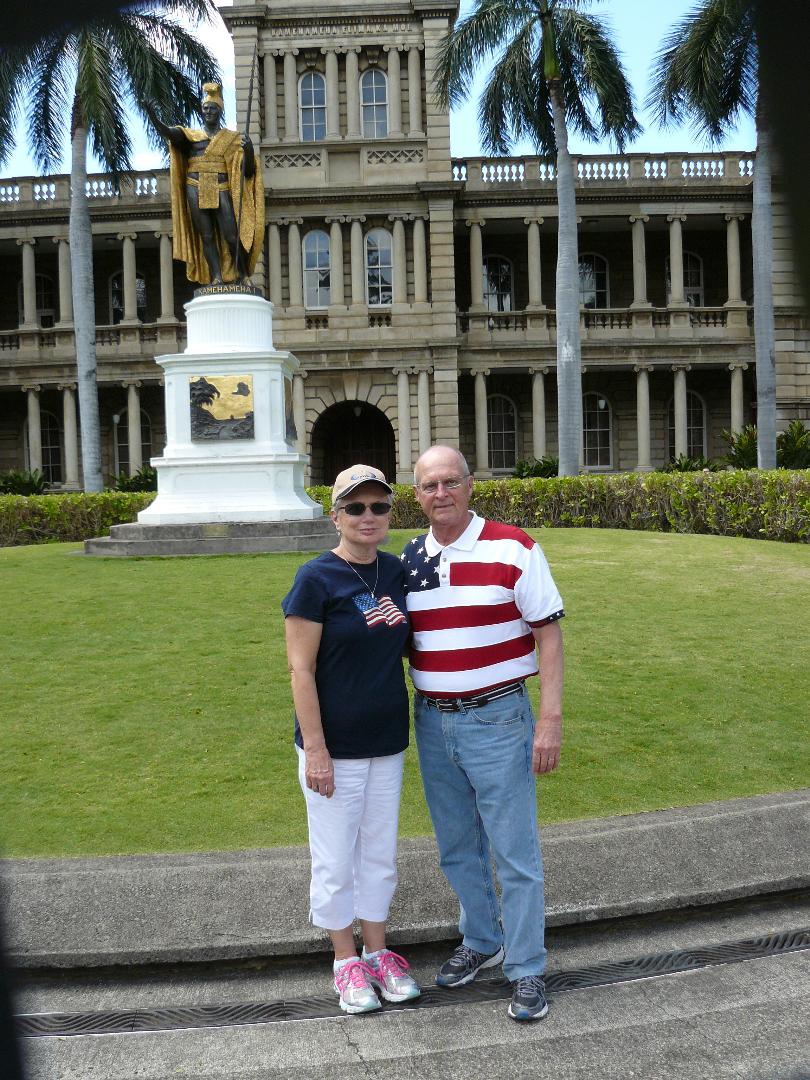 Arrived in Nashville around 8:45 Sunday morning, tired but very happy with our 10 days in Hawaii. Everything went very well with no surprises or disappointments. Every flight and excursion was right on time and the ship was excellent. Just want to let you know and thank you for arranging a wonderful experience for our 50th anniversary.
Dudley and Sue
Niagara Falls
Russ and I returned today from our trip to Niagara Falls. We had a wonderful room. The view was unbelievable and the hotel was convenient to everything. The included breakfast buffet and Manager's reception makes the classy hotel affordable. We highly recommend this hotel.
Thank you for making this a wonderful trip and hotel stay.
Janet and Russ Flanagan
PS- Also more information on the expensive hotel parking. The casino next door is a good deal. Our bellman told us about it so apparently a lot of guests use it. Thanks again for the gift certificate. We will certainly call you again when we need a travel agent and will recommend to others.
---
The Hutcheson Springtime Tulips & the Rhine River Cruise
Our cruise started in Frankfurt, Germany and ended in Amsterdam. Our experience with the river cruise was wonderful. We were treated like royalty from the time they picked us up at the airport until we were dropped off at the train station for our 3 days in Paris. Since the river cruise ships are much smaller than the ocean cruise ships we were able to get to know and enjoy the company of the other guests. There were approximately 140 people on the cruise.The excursions were very well organized so we always felt comfortable about where we were going and when we were going. The cruise manager met with us every day before dinner and discussed the next day's activities. We usually had a couple of options to choose from. We enjoyed all of the excursions.
I would like to add that it was a joy to work with Annette on our trip, and I very highly recommend Brandywine Travel. The material she provided was very organized and the trip itself was so organized that we knew at all times where we were going and how we were getting there. That was especially important for the 3 days in Paris.
THANK YOU ANNETTE AND BRANDYWINE TRAVEL.
---
Princess Cruise to Alaska
Kudos to the travel agent queen. A good time was had.
I would suggest to anyone who drives to skip a tour in Skagway and rent a car from Avis and drive up to Carcross. It was fun and we did not have to listen to a tour bus driver. We were rather bruned out with those bus drivers after a Victoria Island driver took us the long way around Victoria after seeing Buchart Gardens. That was nice too.
Might of needed an extra day there for the trip to make it even better. A 5 days cruise would suited me as well but the 7 days were all good.
All in all- excellent!
Jerry & Elizabeth
---
Contiki Tour to London
Alan and Shabnam did a Contiki Tour to London. This is a tour company specifically geared toward adults age 18 to 35. And Alan and Shabnam loved it, as you can see.
We just wanted to drop a line and say thank you for helping us experience one of the best times/trips of our lives. We made many memories (we got engaged!!!) and friends and I can guarantee it will not be a trip we will easily forget.
Thank you again for everything, the trip was wonderful and we will be in touch very soon to start planning for the next trip in 2015 and a honeymoon in 2016.
Thank you again,
Alan & Shab
---
30th Birthday in Saint Thomas, US Virgin Islands
Lee and Rhonda had been working extra to save for a special trip to celebrate Rhonda's 30th birthday. They had the pleasure of staying at the Sugar Bay Resort in Saint Thomas. "The resort was wonderful!" The property was gorgeous. Great beach! The staff was awesome and "waited on us hand and foot". Both Rhonda and Lee agree they would go back again "in a heartbeat". And the best part of the trip for Rhonda? Is that Lee surprised her with a proposal! They already have Barb looking for a honeymoon trip.
---
Honeymoon in Riviera Maya, Mexico
Eric and Maegan spent their honeymoon at the Hotel Grand Riviera Princess Beach Resort and Spa-Riviera Maya Mexico in a Platinum Suite. They said the resort is beautiful, it is located on a great stretch of beach and the staff was very attentive. They both had a wonderful time!
---
12 Day Royal Caribbean Alaska Cruise
Linda and John recently returned from a 12 Day Royal Caribbean Alaska cruise tour. They had a great trip and enjoyed every minute of it. "Everyone was really friendly and couldn't do enough for you!" They loved the wildlife, the small towns, the glaciers, and especially the sled dogs (and puppies). Linda said the very best part of the whole trip was the whale watching tour they went on. The whales were feeding in the area so everyone was lucky enough to see the whale bubble rings on the surface of the water. The whales use their breath to make bubble "nets" to corral small fish into a tight mass. Then the whales "torpedo" to the surface, swallowing fish as they go, and finally breaching above the water in a beautiful display. She said it is an image they will never forget. Linda said, We came to Brandywine Travel because we knew you had been around for a long long time and we felt we could trust you, and we were not disappointed".
---
Pryor Family Affair in Banff, Canada
We loved it! the weather was perfect. We stayed in the Banff Springs Hotel,ans stayed on the gold floor, which came with continental breakfast every morning, and heavy hors d' oeuvres every afternoon. No one takes tips, the food was fabulous and it was not crowded. One highlight, Dan Rather was there with his grandson. Part of our family took two fishing trips. We all went rafting on the Bow River. We spent some time at Lake Louise. It was all beautiful!
---
Galapagos, Island
This trip was a life changing experience! Seeing all the aimals was wonderful, the ancient turtles, iguanas, Blue Footed Boobies and sea lions were incredible.
---
Family Adventure to Hawaii
It was amazing in every way. We snorkeled, did the sunrise bike ride, went to a Luau and dared the zipline. We plan on going back in a couple of years for sure. And thanks for putting it together.
---
Highlights From the Golden Gate City
We had a wonderful trip to San Francisco The highlights included the city tour a tour of Alcatraz. We were so glad we had Annette book Alcatraz because they say
it usually books up a year in advance. The other highlight was the Napa & Sonoma Wine country tour with lunch. We experienced great service and really enjoyed the lunch as well as the vinyards and wineries we saw.
---
Honeymoon in Ocho Rios, Jamaica
Ted and Brittany spent their honeymoon at Sandals Grande Riviera Beach and Villa Golf Resort in Ocho Rios Jamaica.
We loved Sandals Grande Riviera! The staff was so personable... they couldn't do enough for the guests. We had a Butler Suite with two butlers; one female and one male. The butler service was excellent, however they do expect tips from the guests they are in charge of. All the restaurants were good, but the best restaurants on site are The Manor and Valentinos. We asked our Butler for a personal recommendation for good local food off the resort and he suggested a place called Scotchies. We took a taxi to Scotchies for dinner one night and the Jerk Chicken wasawesome! The place is about a 15min taxi ride from resort. We went with another couple and shared the fare.
Sandals Grande Riviera is divided into two sections-The Mt Side and Seaside. Butler suites are on Mt Side. They have little golf carts to take you around the resort if needed. They also have a private lounge at MBJ airport for guests while they wait for arrival shuttle. Food and bevs available there.
As part of a wedding gift, we got admission to the Club Mobay at Sangster Airport, which is the name of the airport in Montego Bay Jamaica. Club Mobay was the best idea EVER. It is a really easy way to end a wonderful Jamaica vacation. One of the benefits to Club Mobay is we were ushered through customs and security very quickly and then we spent time in the all-inclusive lounge where they had sandwiches, snacks, and drinks while we waited for our flight home. It was a great honeymoon trip and we want to thank Barb for all her hard work. She made it so easy for us!
---
A Journey to The Happiest Place on Earth
The trip was great! Everything worked out well. The hotel was great - they even gave us a room at the end of the hallway. The hotel was two miles from parks, and we took the shuttle every morning. Also, it was pretty cheap. The meal plan included worked well, too. We were able to use all of the coupons and not spend too much of our own cash.
Thanks for your help with the booking!
---
Celebrity Couple Vacations in Alaska
Had a wonderful trip! Chance of a lifetime. Saw all but a lynx in Denali!!! Temperature was so funny!!! 80-85 in Fairbanks, Denali and Anchorage. Beginning with Seward, it never got out of the 50s!!! Lots of fun though. Will call when I get myself re-organized!!
Thanks so much for all the help!
---
Cruising on a Fun Ship
Just wanted you to know that our cruise was WONDERFUL!! Thanks so much for all of the help with booking our travel arrangements. If you ever hear of good deals, please let me know!
The one thing that stood out best for me was the fact that everything that you sent to me was so organized. Everything was highlighted where all I had to do was pull it out. THANK YOU for making it so easy!
Also, I liked the fact that I gave you the budget that we had to be on, and you were able to find something to work with that.
I am a "sun" person, so I didn't get off the ship in Progresso, because I wanted to soak up the sun while a lot of people were off the ship, and there was plenty of room to sun bathe. I wish now that I had gotten off in Progresso, because I should have taken the time out to see the Mayan ruins. (However, I did get a good tan, so my efforts with sun bathing did pay off.) I liked Cozumel. We shopped, and I got several souvenirs and items for myself. The next time I take a cruise though, I plan on taking an excursion at each port.
Thank you for adding me to your e-mail list. I hope to take advantage of some of your specials in the near future.
---
Vacation on A Love Boat - Princess Cruises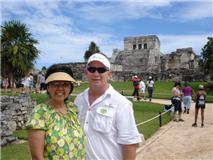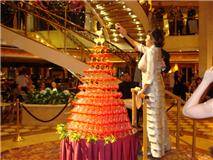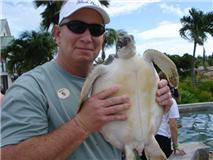 We're back from our Princess Cruise, and all I have to say is...WOW...that was the best vacation we ever had! We're ready to start planning the next one! The cruise exceeded our expectations...in every way. We were never bored. We were very impressed with Princess...the ship was spectacular...they treated us like royalty...entertainment was great...I have absolutely no complaints. The crew was extremely polite, accommodating & friendly. We loved our stateroom steward who was so helpful.
The first day at sea, we did a couple's massage to put ourselves in relaxation mode. (I think that, and snorkeling, was Rick's favorite thing.) We did three excursions (the turtle farm, Mayan ruins in Tulum, semi-sub underwater tour) and enjoyed each one. The ruins were especially interesting, and I would recommend that to anyone who enjoys history. We snorkleled in Princess Cays. It was a great way to wind down the cruise. Glad it was last. We were impressed at how nice and clean Princess Cays is and how much fun it was there. Before the trip, we made plans to use their fitness center every day, but never made it there because we were so busy doing different activities day and night. We came back relaxed but exhausted...if you know what I mean.
On the ship, we tried every single restaurant. We ate at Sabatini's on the second formal night since we were all dressed up. The food there was fantastic and every bit worth the $20 cover/pp. The service there was truly an example of fine dining. The first formal night, we ate at Crown Grille. Regardless of where we ate, we made sure to sit by a window which added to the pleasure of dining at sea.
I was glad we had a room with a balcony...it was nice to have our own quiet space to sit outside and watch the sea go by. We met some very nice people who we hooked up for coffee, dinner and a show a few times.
We thank you so much for all you did to make our first time a breeze...you explained the process so well, and everything happened just as you described. I must say, the disembarkation process is extremely well choreographed and before you know it...you're up, off the ship and at the airport. Quite painless. Thought I'd share a few photos with you, so I hope you can open them.
---
Beautiful Butchart Gardens - Victoria, British Columbia, Canada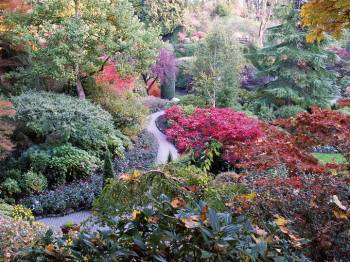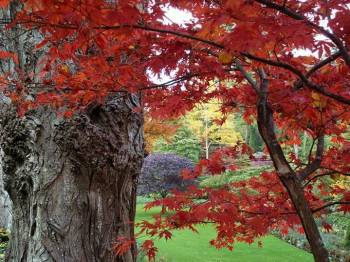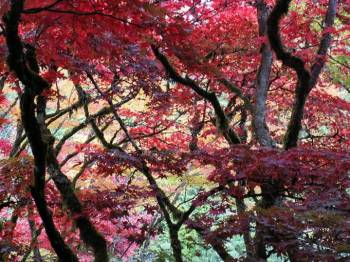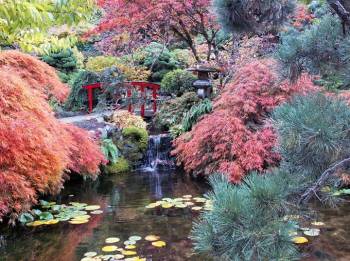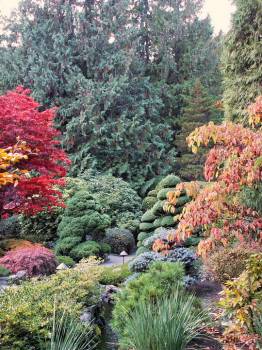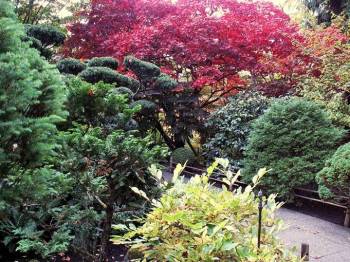 Could not resist passing these pictures along. "Memories" of the good times.
It is always so beautiful at Butchart Gardens. If you have not visited there at least once, you should. What is surprising is that the owner's wife transformed an old stone quarry into this spectacular garden. It draws tourists from all over the world and has special events for different occasions. At Christmas, they have a wonderful display of lights so even if most of their gardens rest during the winter months, there is always something going on. They had quite a show of delicate Himalayan Blue Poppies this year in May.
---
Escape to Paradise - Moorea, Tahiti
Moorea, Tahiti is only a seven-minute flight from Papeete.
The trip was absolutely wonderful, and I can't thank you enough for helping us put it together. The hotel was great, and Tahiti was GORGEOUS. We kept saying how every photo we took looked like a screensaver. We went snorkeling and swam with stingrays and sharks (that was our favorite day). The dinner on the beach was delicious and very romantic. I'm so inspired to travel more now that we got a taste of what it's like. Thank you again!!!
---
A Visit to Wine Country - Napa Valley, California
We loved the Farmhouse!! Both the White House Inn and the Argonaut were very nice, but we still preferred the Farmhouse. We really liked being out in the country more than the city of Napa. Napa was nice but definitely more commercialized. Not really sure if that is the right word. But, Sonoma, especially Northern Sonoma was more country. We liked that the wineries were family owned rather than corporate owned. It just seemed to fit us more. Plus, we loved being around all of the giant redwood trees. We had lunch at Korbel, and they had a great terrace surrounded by redwood tress.
Schromsberg was definitely a great tour in Napa. All in all, we had a great trip and could have used several more days there!!
---
Romantic Getaway at Couples Negril, Jamaica
We loved Couples Negril. The service and food was absolutely amazing. We definitely want to go back sometime. The only bad thing about the honeymoon was it rained the entire week due to Tropical Storm Nicole. We had one day where the sun came out (Sat, our last day there), and we saw how amazing Jamaica can be as we were leaving. But, we had a great time despite the elements. Thanks again for all your help with the honeymoon.
---
The Sea Called, and This Family Answered - Royal Caribbean International's "Freedom of the Seas"
Thank you for booking our family on Royal Caribbean's "Freedom of the Seas." This is an awesome ship that is wonderful for all ages of kids and adults.
The ship has a rock-climbing wall, a putt-putt golf course, an ice skating rink, a very large pool with all types of characters and a waterfall just for children, a very large pool for everyone and a pool just for adults. The biggest attraction for teenagers and adults is the Flowrider. This simulates actually riding waves on a slalom or boogie board.
The food was excellent in the dining rooms, and also, surprisingly, in the buffet. The buffet has five lines with everything. Finding seats in the buffet area was no problem.
The nightly shows were also very good. The promenade also has some nightly shows with entertainers. The area is several decks high with many shops.
All the family had a fantastic experience. We have been on numerous cruises, but this was truly one of the best. Our grandchildren thought that it was the best!